As you might have noticed, I sort of fell off the band wagon with our Helpmeet series.  🙂
Our little one came down with a fever on Thursday night, and I am still busy tending to him.  I chose to let the blog series go so I can focus on my family this weekend, not to mention get a little rest.  Feverish babies don't sleep well at night, and neither do their mamas!
I appreciate the response via comments, Facebook, and even emails regarding the different types of men.  My man is definitely a Steady guy.  I've been doing a lot of thinking about marriage and the types of men, and I really do believe that understanding our men can be key to learning to appreciate and respect them.
Unfortunately, neither appreciation nor respect seem to come naturally to any woman.  We CAN and SHOULD develop these virtues, however, and it is well worth the effort to do so.
Next Wednesday and Friday, I'm going to wrap up our series with a two-part post on being an helpmeet to the Steady Man.  Thank you for your patience!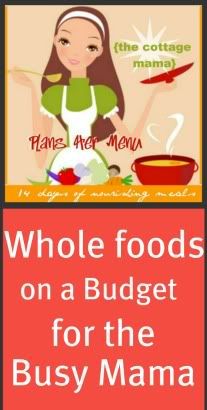 Earlier this week, I finished editing my new ebook, The Cottage Mama Plans Her Menu… whhheeew!  It will be available for purchase this coming Monday, so stay tuned!
I hope you all have a wonderful weekend.  Don't neglect to spend time at the Lord's House this Sunday! 
Blessings to you all,
Would you like to comment via your FB profile?