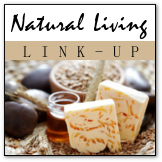 I believe God had a plan when He created this world and the people in it; a plan for healing, health, and wholesome living that would bring glory to Him and nourish all of Creation.
If you're a natural-minded individual with a thirst for knowledge, this is a place where you can be fed!
If you're a blogger with a love for all things natural, here is your chance to share your creativity and link up with us!
Anything that is family-friendly and "natural" is welcome: recipes, healthy living tips, herbs and home remedies, natural topic articles, etc.
Thank you for joining us in celebrating natural living!
————————–

Would you like to comment via your FB profile?