I'm sure we've all heard the familiar jangle,
If mama ain't happy ain't nobody happy.
Unfortunately there is quite a bit of truth in that statement!  How many times have I upset the apple cart in my home with a negative, complainy, irritable attitude?
More times than I care to remember.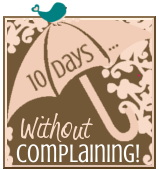 Once upon a time, I took a no-complaining challenge for two weeks. Wow!  That little "experiment" taught me how much my attitude is a learned response; a habit that I can control, and one that greatly controls the atmosphere of my home.
A mother's role in the home cannot be over-stated. Her attitude is like a thermostat that governs whether the home is warm and joyful or cold and negative.  All things rise and fall on the words, reactions, and attitudes that issue from her heart.
Consider the following quote by Hannah Whitall Smith:
Learn to live in God's rest. In the calmness of spirit it will give, your soul will reflect, as in a mirror, the beauty of the Lord and the tumult of men's lives will be calmed in your presence, as your tumults have been calmed in His presence
The key to a peaceful home is to first have a peaceful heart.
Am I living in God's rest on a continual basis?
Can my family members describe my spirit as "calm"?  
Does my life reflect the presence of God to the point that others (including my husband and children) are blessed simply by being in my company?
When I have to answer no to any of these questions, it is a good indication that I have disconnected myself from the Source of joy and peace- the presence of God.
But how can a busy wife and mother dwell continually in the presence of God?
First I must seek and desire it above all else. A constant state of praise and thanksgiving can usher me into the presence of God even at the ironing board or over a sink of dirty dishes.
Too often, we try to separate the holy from the natural when, in fact, they can and should be organically intertwined throughout our daily lives.
The question is, How much do I desire to meet with my Lord?  Am I willing to lift my heart to Him in praise and gratefulness, even when I feel lost in the mundane-ness of daily living? 
God is not discriminating; He is willing to meet us where we are at.
Reach out to Him today, my friend, and let His sweet peace fill your heart and mind and home!
This post is linked at Raising Homemakers, A Wise Woman Builds Her Home,  and Deep Roots at Home.
Share this post!