7 Days of Homeschooling, Day 3 | Did you miss days 1 or 2?
If routines and schedules do not come easily for you, take heart.  They don't come easily for me either! 
As much as I love to chart and plan and schedule, the every day execution of those lofty ideas is what always manages to derail me.  Consistency is a virtue!
That which we persist in doing becomes easier- not that the nature of the task has changed, but our ability to do has increased. 

(Ralph Waldo Emmerson)
I first began working on a daily schedule back when our two oldest children were babies.  It was a totally foreign but reasonable concept to me.  I loved the freedom and consistency of knowing how to order my day, and how to plan ahead!
Unfortunately, I have fallen off the bandwagon many times over the past 6 or so years since I first began adhering to a daily routine.  Many times, it was due to inconsistency on my part.
Other times illness, moving, having more babies, or a dozen other things played a part in knocking me off course.
Like life, our "routine" is forever changing, growing, stretching.  Flexibility is a virtue!
Here, in summary, is a "typical" homeschool  morning at our house.
My goal is to be up, dressed, and have a similitude of order to my day before our children begin crawling out of bed.
Since three of my kids are early birds, and I am not, this does not always work out quite as nicely as I would like!
At any rate, most of my mornings begin somewhere around 7 am (some mornings, a tad later).
 Our target breakfast time is around 8:30. 
Most mornings, breakfast is homemade granola or oatmeal.
Once or twice a week, my sister (who lives with us) or I will bake something "nice"- like muffins or pancakes.  It just happened to be gluten-free banana bread this particular morning.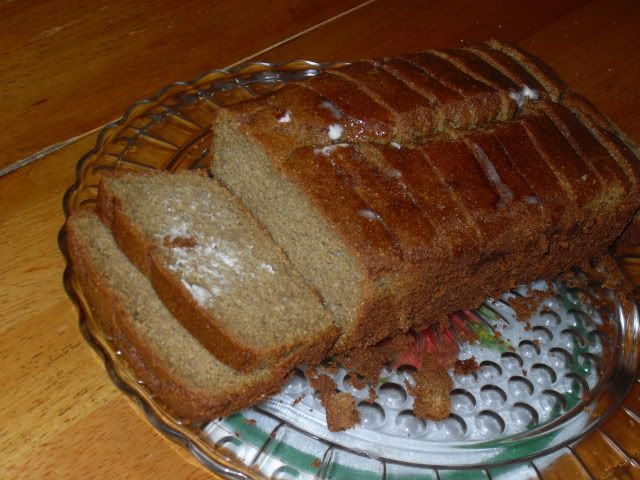 While everyone is still seated at the breakfast table, I read a chapter (or at least a passage) from Psalms to the kids.
They normally practice their Bible memory work at this time, too.  (Right now, we're finishing up the Beatitudes: Matthew 5:1-10).
After breakfast, it's time to clean up the dining room table, wash up the dishes, and do a few chores. 
Anyone who has not already gotten dressed is helped into their play clothes; beds are made, jammies put away, hair brushed (most days!), teeth brushed.
Miss A practices here piano lesson for 10 minutes between breakfast and school time.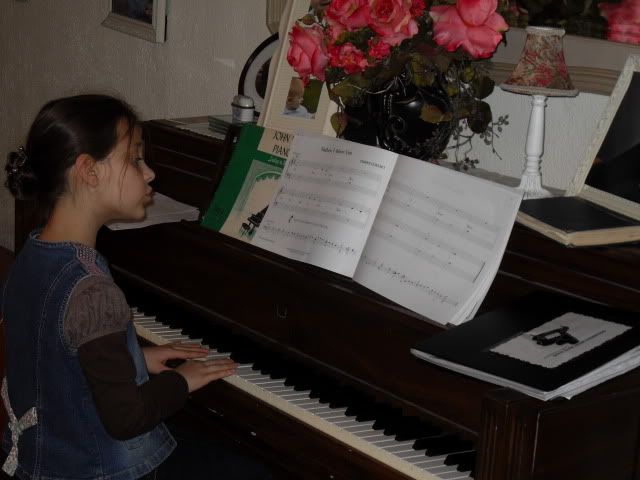 Wheeew- it's 10 o'clock, and the kiddos and I are at the dining room table, ready to crack the books! 
Mr C is laid down to nap.
Some days, Mr K sits at the table with one of his "learning" toys while the girls do school work; other days, he accompanies Daddy on errands around town (his favorite thing to do!).
If we haven't already worked on our Bible memory, we do it now.  Otherwise, it's time for our character virtue lessons from Christ Centered Curriculum. 
This week's character quality: generosity.  On Tuesdays, we also do a page or two from Little Annie's Art Book of Etiquette and Good Manners.
Next is math.  I get both girls going in their work books, going back and forth between the two girls.  Our oldest is good about working independently, unless she needs something explained.  Our Kindergartener, Miss E, still requires more one-on-one supervision.
After math lessons are wrapped up, everyone heads to the front room for "quiet time."
 This means the kids grab a few books to look at or read on the couch.  I set the timer- sometimes it's 15 minutes, sometimes 20 or 25.
The game plan is, no one gets up or talks or wriggles during quiet time.  It's simply time to sit and look at books; the idea is to help these active little people learn to be still (think Church-service training!)
Our second-grader uses this time for "reading", including her daily Bible reading.  I help her read her Bible passage, since she can't pronounce all the words by herself yet.
After "quiet" time, the girls head back to the table for phonics.  If Mr K was extra good during quiet time, he gets to play with a learning "computer" game.
I coach our girls through their Christ Centered Phonics work books.  Miss E reviews her phonics via a flash card game.
Miss A writes her spelling words in a notebook once her pages are finished.
If it happens to be a Wednesday or Thursday, I read a history chapter following the phonics lesson.  Most Fridays, the girls work on a project from Bunkhouse Sewing Lessons.
By now, it's high time to get lunch on the table!  Our little Mr C has usually already awoke by now and is ready for a "snack."
One of the girls joins me in the kitchen to get a simple but healthy lunch on the table for the family: usually tacos, a salad, sandwiches (from homemade gluten-free bread), or a soup from the crock pot.
I aim for quick and simple lunches on school days!
Daddy is almost always home for lunch, which makes the kids day.  They tell him all about their morning during the meal.
After lunch, it's clean up time, laundry time, play time for the kiddos, then the glorious hour of NAPS at 2 0'clock.  🙂
By this time, I'm tired and the house is at least somewhat disorderly (and sometimes plain messy).  But, it's a pretty satisfied feeling to have another homeschooling day in the books!
 Do you have a general "routine" for homeschooling? 
Would you like to comment via your FB profile?